Puma har återkommit efter sin period i "stealth mode". Nu ligger Puma,med skepparen Ken Read, åter på andra plats, 76 Nm efter Ericsson 4. Med knappt 600 Nm kvar till Kapstaden ser Ericsson 4 därmed ut att gå mot en klar seger. Båten gör bäst fart (24,7 knop) av hela fältet och ökar därmed sitt försprång.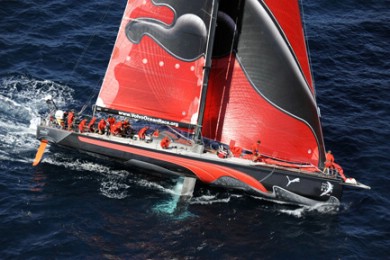 Ericsson 3 ligger nu på tredje plats, 312 Nm efter Ericsson 4. Den stora överraskningen så här långt är Telefonica Black, som ligger sist – hela 596 Nm efter ledaren. Trots att den båten har fältets kanske bäste navigatör, svensken Roger Nilson.
Länk: www.volvooceanrace.org
Här är eftermiddagens pressrelease från Puma.
PUMA LEG ONE DAY 21 QFB: received 31.10.08 0936 GMT
Well, well… being on the keyboard after these last few days of 'powerful sailing' is a funny feeling. But it's nice. Nice to come back to something 'normal', something you can actually do rather than just hanging on waiting for the next crash . Now we are back in a more civilised world and Cape Town is getting closer. That smells good! But race is not over and doors are still wide open to any kind of good or bad result.
Conclusion of this last day is: 'Congratulations E4, you've done a real demonstration, the level of both crew and preparation became obvious.' But race and leg are not over, and we better whip ourselves and Il Mostro hard because, in the past editions, the winner of first leg won the race…
If E4 made a demonstration, we can see on our side that we have a good learning curve and still some more under our foot. This leg has been a fantastic 'lab' to get the last few missing knots out of Il Mostro. Close contact had been our best friend, almost 'two boat testing conditions', this made us stronger.
Now I have talked enough about this race and my thoughts and dreams are going to this moment where us and our families will become one again. A few of us had some peculiar dreams during this heavy sailing. Once I was steering in the dark, my mind found an escape and I ended up somewhere laying on the floor with my daughters and wife in my arms… Then I had to tell myself:
'Come back Sid, that's not the way to go, come back to your numbers and keep fighting'. It shows how radical conditions bring us back to our roots and to the important things in life. Even if Anglo-Saxons are not big 'talkers', you can feel that in everybody's eyes and attitude.
All right, back to our fight, we have an E4 to kill and a fleet to keep away; I am flying to my bunk and hope to come back on deck with even more anger.
See ya.
Sidney Gavignet – watch captain