Tio båtar med respektive tävlingsteam håller som bäst på att ladda upp inför helgens Italian Grand Prix, som körs på Comosjön. Tävlingarna hålls 14-16 oktober med staden Cernobbio som värd. Detta är årets tredje deltävling i UIM Class 1 World Powerboat Championship och den tävling som avgör vem som ska få titeln mästare enligt 2011 European Championship.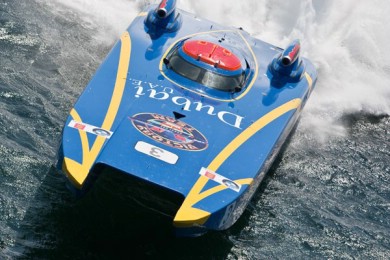 Det är inte första gången som de här båtarna gästar den vackra Comosjön. Premiären skedde 1987, när Class 1 tävlade där under ledning av Bruno Abbate. Tävlingen vanns av före detta tenninsproffset Adriano Panatta.
I år är det främst Victorys Arif Al Zafeen och Nadir bin Hendi, ledare av World Championship, som är intressanta för avgörandet av vem som ska få ta med EM-titeln hem. Deras ärkerivaler finns i teamet Spirit of Qatar 96, som vann senast när båtarna tävlade i Norge.
Duon från Förenade Arabemiraten vann säsongspremiären i Abu Dhabi och har vunnit tre av fyra tävlingar i Italien. De ser nu fram emot att kunna ta sin 24:e seger i karriären.
Program
ITALIAN GRAND PRIX, CERNOBBIO (14-16 oktober)
Friday, 14
12.00-13.30 official practice
Saturday, 15
10.00 -10.30 official practice
10.45 -11.30 Qualifying/Edox Pole Position
14.30 Italian Grand Prix – race 1
Sunday, 16
10.30 -11.30 official practice
14.30 Italian Grand Prix – race 2
UIM CLASS 1 WORLD POWERBOAT CHAMPIONSHIP – efter omgång 2
1. 3 Victory – 59pts
2. 96 Spirit of Qatar – 54pts
3. 95 Spirit of Qatar – 35pts
4. 74 Poliform – 23pts
5. 5 Team Abu Dhabi – 22pts
6. 10 Fendi Racing – 19pts
7. 90 Welmax – 14pts
8. 91 Relekta – 10pts
9. 50 Parsonage Racing – 8pts
10. 69 ferskfisken.no – 5 pts
11. 18 MITI Tech Power- 4pts
EDOX POLE POSITION CHAMPIONSHIP – after round 2
1. 3 Victory Team – 35pts
2. 5 Team Abu Dhabi – 29pts
3. 95 Spirit of Qatar – 27pts
4. 96 Spirit of Qatar – 16pts
5. 10 Fendi Racing 14pts
6. 90 Welmax – 10pts
7. 91 Relekta – 7pts
8. 18 MITI Tech Power – 5pts
9. 69 firskfisken.no – 4pts
10. 74 Poliform – 2pts
11. 50 Parsonage Racing – 1pt
EUROPEAN CHAMPIONSHIP – after round 1
1. 96 Spirit of Qatar – 20pts
2. 3 Victory – 15pts
3. 95 Spirit of Qatar – 12pts
4. 74 Poliform – 9pts
5. 90 Welmax – 7pts
6. 69 ferskfisken.no – 5pts
7. 91 Relekta – 4pts // 10 Fendi Racing – 0 pts 5 Team Abu Dhabi – 0 pts 50 Parsonage Racing – 0pts 18 MITI Tech Power- 0pts
Här är resten av pressreleasen inför tävlingarna på engelska:
The return of the Spirit of Qatar Team has added spice to the Championship as their rivalry with their Middle East cousins intensifies on and off the water. Sheikh Hassan and Steve Curtis' victory in Norway ended their 12-race win-drought, and they now go in search of their first major Class 1 title together – Curtis hunting down a record fifth European crown and Sheikh Hassan a second, on what will be his 50th Grand Prix outing. The team has made one or two upgrades and worked on modifications to improve performance, specifically acceleration which Curtis believes is crucial for the type of courses being run these days.
But Sheikh Hassan and Curtis will also need to keep very close tabs on teammates Ali Al Neama and Matteo Nicolini – who lines up for his 100th Grand Prix and the last Italian to win a major Class 1 trophy lifting the European title in 2005 – who have out-gunned them in both qualifying sessions this season and sit behind them in the standings, after taking two podium finishes.
Two outfits looking to end a long and well overdue wait for an Italian win on home waters – the last by Edoardo Polli and Lamberto Leoni in Tarranto in 1997 – are DAC Racing and Fendi Racing; Guido Cappellini and Giampaolo Montavoci lead the all-Italian challengers in the World and European title races and, after carrying out further modifications to their DAC 40 Poliform, will be looking to improve on their fourth place in Norway and step-up to challenge for their first win together.
Fendi Racing's first outing with their new Outerlimits boat-engine package did not give Luca Formilli Fendi and Giovanni Carpitella the performance or results they were expecting, with the team announcing an immediate switch of engine supplier after only one outing with the Outerlimits Powertrain SCI 850 V8s, confirming that they have signed an agreement with SCAM Technology to run their 8.2litre V12 engines, stating that the American engines need a further period of development.
Further Italian interest will focus on GiorgiOffshore, who return to racing with an upgraded boat after missing the last event, with Nicola Giorgi lining-up alongside Sandro Sardelli in MITI Tech Power, the partnership teaming-up for the first time in Abu Dhabi in 2010, taking two fifth place finishes.
Team D'Alessio-SCAM make their first appearance in the Championship with the experienced Luca Nicolini, who made his Class 1 debut in 1993 and has 14 starts under his belt, taking two podium finishes in 2007, on the throttles in the Victory built, V12 powered FA.RO. ACCIAI., with Belgium's Frank Hemelaer set to make his Class 1 driving debut.
Team Abu Dhabi has announced an eleventh-hour call-up for F1H2O star Ahmed Al Hameli who steps in to substitute for Rashed Al Tayer, forced to sit out the event after picking up an injury at a Jet Ski event in America. Al Hameli, who made his Class 1 debut in 2009, teams-up with fellow-Emirati Majed Al Mansoori – both making just their second Grand Prix starts in Class 1.
An unexpected announcement by Welmax Offshore Racing sees a revised driver line-up with the 2010 Edox Pole Position Champions Kolbjorn Selmer and Jorn Tandberg stepping aside and Bjorge Jacobsen and Kurt Olsen stepping in to take over race duties. The team has also opted to run the Maritimo hull over the MTI, retaining the name Welmax.
Zabo Racing's Ugur Isik and Christian Zaborowski will be looking to improve on their performances after picking up just ten points from three outings in Relekta, and will arrive in Italy confident that they can turn things around. Team principal Jan Zaborowski has confirmed that they have made considerable modifications to the Victory hull, which they debuted in Norway, and that they will be in good shape in Italy.
The Grand Prix weekend gets underway with first official practice at midday on Friday. A second practice session, qualifying in the Edox Pole Position and race 1 take place on Saturday, with a final practice session on Sunday morning followed by race 2 in the afternoon.
Info: www.class-1.com