Emirates Team New Zealand är ny mycket nära en totalvinst i finalen i America's Cup i San Francisco. Nya Zeeländarna leder med 8–2 i finalserien och allt mer talar för att de vinner cupen. Därmed har Larry Ellison-ägda Oracle Team USA misslyckats med att försvara cupen. Det ska väldigt mycket till för att amerikanerna ska kunna ta tillbaka det försprång som Emirates Team New Zealand har skaffat sig. Seglarna från Nya Zeeland har bevisat att de är riktigt skickliga och att de kan hålla ihop sin stora satsning, trots att landet är så mycket mindre än USA.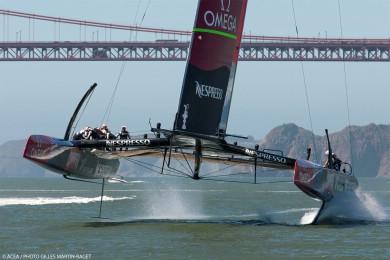 Här är den senaste pressreleasen från tävlingarna:
ORACLE TEAM USA kept alive its hope of retaining the America's Cup with a wire-to-wire win in Race 12.
Skipper Jimmy Spithill and crew defeated challenger Emirates Team New Zealand by 31 seconds, aided by a 6-second jump off the start line. Spithill did a great job in the prestart, gaining a leeward hook with 20 seconds to the start that forced Emirates Team New Zealand skipper Dean Barker to tack away to avoid the risk of a foul.
On the racecourse, the defender showed blazing boatspeed – foiling upwind at 30-32 knots and posting an average speed for the race just under 30 knots – and maintained a steady advantage to force the match into its 10th day tomorrow. Attempts to start Race 13, today's scheduled second race, were abandoned when the wind exceeded the prescribed limit for the race with less than 90 seconds to the start.
Emirates Team New Zealand leads the series 8-2 and needs just one more point to win the series. The defender needs to win out – seven consecutive races – to retain the trophy it won in 2010.
"We were able to get a nice jump off the start line. From there Ben (Ainslie, tactician) and Tom (Slingsby, strategist) sailed a nice race, they had tough decisions to make," said Spithill. "The way we sailed the boat was the best we've sailed it. We made zero mistakes and it was a very satisfying race for the guys on the boat."
Spithill said his team is reenergized by the recent performance of their AC72 and its given them the confidence that they can reel off seven consecutive wins. He said he's also enjoying watching the Kiwis "squirm" as they hang on match point for another day, but Barker says his team hasn't lost its confidence or direction.
"We're very aware of the support back in New Zealand and very thankful for it," said Barker. "Today we made a meal of the start and got on the back foot. These guys (ORACLE TEAM USA) are sailing well enough that you don't have a chance to get past them. We have to do better than what we did today. We're very pleased with the way the boat is going, and if we sail properly we'll give it our best run."
While the pendulum hangs in mid-balance, waiting to swing one way or the other, the performance of the AC72 continues to impress even the most hardened layman. Sailing upwind at speeds of 30 knots with closing speeds in excess of 70 knots has never been witnessed in the America's Cup.
"As the boats have gotten faster and faster they're reaching speeds in much less wind than we were six, eight, 12 months ago," said Emirates Team New Zealand wing trimmer Glenn Ashby. "The boats have become more powerful in a sense because they accelerate faster, stop faster, and turn faster than 12 months ago. You have to speed up the learning process as the boat's going faster as well. But you just don't need the wind strength anymore to get those top end speeds."
Races 13 and 14 are slated for tomorrow, scheduled to start at 1:15 pm PT and 2:15 pm PT. In the U.S., the America's Cup Finals will be broadcast live on the NBC Sports Network. Replays will be available on the America's Cup YouTube channel.
Internationally, the America's Cup Final can be viewed in more than 170 territories. All racing is also live on America's Cup YouTube channel (subject to territorial restrictions).
You can also follow racing with America's Cup App for android and iOS devices.
34th America's Cup Standings (first to 9 points wins)
• Emirates Team New Zealand – 8
• ORACLE TEAM USA – 2
Race 12 Performance Data
• Course: 5 Legs/10.16 nautical miles
• Elapsed Time: OTUSA – 23:49, ETNZ – 24:20
• Delta: OTUSA +:31
• Total distance sailed: OTUSA – 11.8 NM, ETNZ – 11.6 NM
• Average Speed: OTUSA – 29.90 knots (34 mph), ETNZ – 29.01 knots (33 mph)
• Top Speed: OTUSA – 42.62 knots (49 mph), ETNZ – 41.24 knots (47 mph)
• Windspeed: Average – 14.8 knots, Peak – 16.3 knots
• Number of Tacks/Jibes: OTUSA – 10/6, ETNZ – 10/8
Upcoming America's Cup Schedule
• Friday, Sept. 20: Race 13 (1:15 pm PT), Race 14* (2:15 pm PT)
• Saturday, Sept. 21: Race 15* (1:15 pm PT), Race 16* (2:15 pm PT)
• Sunday, Sept. 22: Race 17* (1:15 pm PT), Race 18* (2:15 pm PT)
• Monday, Sept. 23: Race 19* (1:15 pm PT)
(*If necessary)
Foto: Gilles Martin-Raget.