De ledande båtarna i Volvo Ocean Race fortsätter att segla väldigt jämnt. På tisdagsmorgonen låg Puma i täten, följd av Ericsson 4 och Green Dragon. Här följer den senaste releasen från Ericsson 4, utsänd sent på måndagen.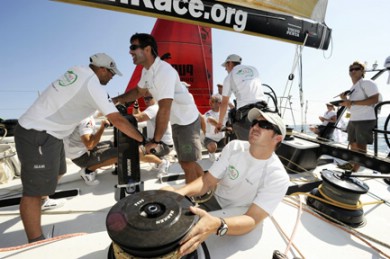 ERICSSON 4 LEG ONE DAY 17 QFB: received 27.10.08 1248 GMT
The fleet is compressing in this race once more as we start to make the turn east to Cape Town. We have been having some interesting skirmishes with Puma throughout this race and again we find ourselves within 4 miles of each other with them in the ascendancy. The pursuers, which range from Green Dragon in the south, to Telefónica Blue to the North, all have better wind than us right now – the Irish have probably got themselves into the best position leverage-wise for a move to the front of the pack…we shall see.
Problem for us is how to minimise the losses against these guys as the wind field evens out then increases for all…and then on the smaller scale keeping the Puma at bay. Oh to be in 3 places at once. Never mind, we are still leading though being down to 10 men (soccer pundits insert your cod 11 versus 10 team psychology here….).
We seem to hang in there with Puma but only just, are we faster? Our perception on board is not as the shoe boat keeps gaining then a light spot or angle change seems to give us another lucky jump and the process begins again…it will be interesting to hear the Puma guys thoughts on this.
The latest weather models route us through some big wind areas so we will have to take a view on that, always better to get there with some points than not at all. This class of boat still does not fully convince me of its robustness in winds greater than 35 knots. Some exciting sailing ahead for those who like sailing then, for the others like me who don't, it will be a period of constant worrying below decks with the odd stroll on deck to prove man's efforts at making oilskins that work have not moved on much since wool dipped in tar and oil was donned by whalers down here 200 years ago…or maybe it is just that people were tougher back then.
Jules Salter – navigator