Ericssons båda båtar behåller tätplatserna i Volvo Ocean Race. Ericsson 3 med Anders Lewander ligger på första plats, 33 Nm före Ericsson 4. På fjärde plats fins fortfarande Puma, 49 Nm efter ledaren. Det återstå nu cirka 2 500 till etappmålet i Cochin i Indien.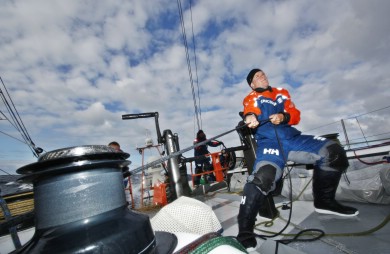 ERICSSON 4 LEG TWO DAY 7 QFB: received 21.11.08 0828 GMT
I guess it must be huge news onshore but in the last day, we have been getting the news of the piracy off Somalia, apologies if this is the thousandth blog mentioning the fact!
Pirates come in all shapes and forms, from the fully organised terrorist style, which we are reading about so much, to the opportunists. There are a lot of reported incidents, which are not piracy at all. I have sailed many, many miles throughout SE Asia and piracy was one of the big worries in this area, all too often curiosity is reported as piracy.
Many a time I would be several hundred miles from land and a small fishing boat would follow you – sometimes for hours on end. On the odd occasion, the fishing boat would come right along side – often with the occupants fully clothed – even the face covered up – and in 30 degrees or more heat.
Now this always looks a worry when confronted by masked assailants, but in reality, the fishermen cover themselves completely to protect themselves from the sun, they can't go and buy sun cream – no matter what factor! They often come and try to sell you very, very fresh fish – usually for next to nothing or some western food.
These fishermen have probably been on the ocean every day of their lives since their early teens and have not seen a state-of-the-art yacht, which we are so used to in our world. If they are 'for-real pirates' – then they will have so much fire power that you would not be able to do anything even if you wanted to.
We are jib reaching along in 16kts of wind, there is still the odd wave over deck and a lot of spray – but nothing like a few days ago. The temperature is rising quickly and the kit bags are filling up with the thermals – which we won't see until washday (by which time they will probably have learnt to talk…). Life onboard is definitely more civilized
Back to pirates – the only pirates I can think of right now are CBBC's 'Space Pirates' – a show all parents of the young ones will be familiar with and all of whom will surely be able to sing the theme song – which will probably be stuck in my head for the next 24hrs
All good here
Guy Salter – MCM
ERICSSON 3 LEG TWO DAY 6 QFB: received 20.11.08 1833GMT
Great feeling
In the middle of nowhere, with only open seas surrounding and only birds and fish listening and watching, six guys are making big noises of joy. With fists in the air, screaming and laughing, we are celebrating being the second boat to the scoring-gate along the 58 longitude.
Second is second and we are certainly aiming to beat everyone. But, it still feels very good and from where we are now our navigator, Aksel Magdahl, thinks that we are looking good for the rest of the race as well.
The boat feels great and the guys are all in all in pretty good shape. The boat has been handling nicely and we feel confident for the coming Southern Ocean leg. We now know that we can handle rough seas and strong winds for a long period of time without problems.
The toughest part sailing-wise for this leg should be over. Now we are heading north into the unknown and therefore the most exciting part of this race.
We have of course made a lot of research on the area before the race, but since no one has been racing here before, there is limited information. So far, the weather information has been very precise, something we probably will not experience from now on.
There has been a lot of talking about the dangers of piracy in the areas we are sailing into. Their best business is to take hostages and demand money. Hmm, I wonder how much a bunch of professional sailors would be worth?
We will probably never find out. Firstly, because I've heard that you should never pay people for hostages, since it will only make them commit the same crime again and they will probably kill you anyway. The other reason is that I don't think we will see any pirates at all. We will never be closer than 1400 NM to the coast of Somalia and if the waves are higher than two meters and we are sailing in more than 15 knots of boatspeed, I don't think they will even consider trying to catch us.
Gustav Morin – MCM
ERICSSON RACING TEAM FIRST AND SECOND THROUGH SCORING GATE
STOCKHOLM, Sweden (Nov. 19, 2008) – Ericsson Racing Team strengthened its overall lead in the Volvo Ocean Race this morning when Ericsson 4, skippered by Brazil's Torben Grael, cleared the Leg 2 scoring gate in first place. A few hours later teammate Ericsson 3, led by Sweden's Anders Lewander, cleared the gate in second.
Ericsson 4 was awarded four points for being the first boat to the gate at 058E longitude, while Ericsson 3 received a welcome 3.5 points for crossing second.
"We are well prepared and we have a good boat. The shore crew prepared the boat well for Leg 2," said Grael, the Brazilian Olympic medalist competing in his second Volvo Ocean Race. "We had a good start and sailed well. It's everything put together that made us arrive first at the scoring gate."
"Second at the gate and fifth overall is a morale boost," said Gustav Morin, Ericsson 3 media crewman. "Everyone's quite tired and there are some injuries onboard; everyone has extremely sore hands. This makes it easier to keep on pushing."
The two Ericsson yachts were among the most southerly boats in the fleet this week in their quest for maximum points at the scoring gate. A southerly course meant a shorter distance to the gate, but it came at a price.
The crews have had to contend with very difficult sailing conditions. Windspeeds were steadily around 25 knots with a very confused and steep sea state. Sudden squalls brought winds up to 40 and 50 knots. Both boats broached several times and blew out sails, but haven't reported any major damage.
"It has been a hard five days leading up to the scoring gate," said Horacio Carabelli from Ericsson 4. "The squalls didn't let up and some of them made it very difficult to try and control the boat. One of the 40-knot squalls also gave us hail, which (accumulated) to about one centimeter in the cockpit, and generally this is at night."
Aboard Ericsson 3, Morin reported a very similar story. Besides the sore hands, one crewman, Anders Dahlsjö, injured his ribs when he was washed into a winch handle as the boat submerged in a wave.
"Anders has taken some time off, a few hours more sleep than usual," Morin said. "He was on deck today and is alright, but is in pain. It's a common injury. Magnus (Olsson, watch captain) did it last leg. But they keep working, they're tough guys."
With the scoring gate cleared, the two crews are pushing northwards in calmer conditions and towards warmer climates. Morin reported flat seas, sunny skies and a boatspeed of 24.5 knots.
According to the 1300 GMT position report, Ericsson 3 led the fleet with 2,969 nautical miles to the finish in Cochin, India. Ericsson 4 was third, 23 miles behind. Although there's less than 3,000 miles to go, there are still many minefields ahead to navigate.
"It's not going to be very easy to get first to India," Grael said. "I thought we would pay a higher price for going for first place at the gate, but we are still in good position among the fleet, which is very good for us. It's a difficult leg from now to the finish. We are going to go through many transition areas, at least two or three important ones, and that's going to be decisive."
VOLVO OCEAN RACE LEG 2 LEADERBOARD
(Nov. 20, 2008, 1300 GMT)
1. Ericsson 3, 2,969 nautical miles to finish
2. Puma, 8 NM to leader
3. Ericsson 4, 23 NM to leader
4. Green Dragon, 51 NM to leader
5. Telefónica Blue, 65 NM to leader
6. Kosatka, 89 NM to leader
7. Telefónica Black, 95 NM to leader
8. Delta Lloyd, 192 NM to leader
VOLVO OCEAN RACE OVERALL LEADERBOARD
(After Leg 2 scoring gate)
1. Ericsson 4, 18.0 points (1st at scoring gate)
2. Green Dragon, 14.0 (3rd)
2. Puma, 14.0 (7th)
4. Telefónica Blue, 12.0 (5th)
5. Telefónica Black, 8.5 (6th)
6. Ericsson 3, 8.5 (2nd)
7. Kosatka, 5.5 (4th)
8. Delta Lloyd, 5.0 (still approaching gate)