Tätpositionerna förändras snabbt i Volvo Ocean Race. Med mindre än 3 000 Nm kvar till etappmålet leder fortfarande Ericson 3 med Anders Lewander som skeppare. Puma har gått upp på andra plats och Ericsson 4 ligger nu trea.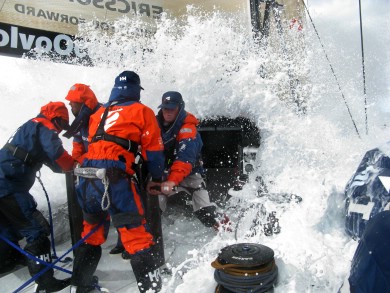 Det har varit tuffa tag nere i södra Ishavet och flera av båtarna har rapporterat olika incidenter. Följ deras rapporter på Volvo Ocean Race hemsida.
Länk: www.volvooceanrace.org
POINTS NORTH
Ericsson Racing Team made it a one/two this morning when Torben Grael/BRA and his team racing Ericsson 4 cruised through the scoring gate on leg two of the Volvo Ocean Race at 0340 GMT, adding another four points to their tally, bringing their total to 18. On their heels was Anders Lewander/SWE and his Nordic team racing Ericsson 3, crossing at 0651 and swiping another 3.5 points. They now have 8.5 points overall.
The wounded Green Dragon (Ian Walker/GBR) is still going in strong, although with one wing clipped when she broke her boom two days ago. She crossed at 0840 GMT, scoring three points (total now 14 points).
"We are thrilled to get third place and three points at the scoring gate," said Green Dragon's skipper, Ian Walker this morning. "This has been our focus since breaking the boom two days ago. We seem to be able to sail downwind with spinnakers quite well, and, even now, reaching with one reef seems OK. It is the upwind sailing that we must hope to avoid," he said. The team hopes to start repairs on the boom once the temperature rises further so that the glue and resin they have onboard will cure. "I'm not wildly optimistic, but I think the lads are looking forward to the challenge," says Walker. "I just have to stop them cutting the boat up in the process," he laughed.
A good showing from the Russians on Kosatka (Andreas Hanakamp/AUT) who crossed just under an hour after Green Dragon at 0936 GMT, meant that a much-needed 2.5 points were added to their tally, bringing their overall score up to 6.5. Hanakamp and his team were very happy with their 2.5 points. The boat is as solid as the day is long, although Hanakamp says there is a certain luck factor involved with not breaking anything. "During the leaps we did in the bigger waves there were no scary noises from the structure of the boat, just the big bangs when you slam onto the water in 30 knots, which is scary and deafening in itself."
Next through the gate was Telefónica Blue (Bouwe Bekking/NED) at 1140 GMT earning 2 points (total now 12 points). Telefónica Black (Fernando Echávarri/ESP) just pipped PUMA (Ken Read/USA) at the post, nine minutes apart. Telefónica Black earns 1.5 points (total now 8.5), while the limping PUMA collected just one point (total now 14 points).
The last boat to cross was Delta Lloyd (Roberto Bermudez/ESP) at 1321 GMT, scoring 0.5 points – total now 4.5 points.
The wind has eased into the high teens and now the race focus shifts towards the finish in Cochin, India as the fleet points its bows north.
Tactics for the second half of leg two will be influenced by high pressure, which has been building slowly to the south of Madagascar since Tuesday, and which the fleet must skirt. Andreas Hanakamp says, "Having the right wind speed and angle is critical, even though the fleet will be compressed later on. This could well change, and, at the end, you want to come out of the compression as much ahead as possible."
So, no holding back now, it is foot to the floor for the fleet. The position of the high will make for at least 12 hours of light winds along the rhumb-line course between the boats' current positions and Cochin, but then the teams can look forward to a few days of trade wind sailing.
Moods have improved as the air temperature gets hotter and the boats begin to dry out. The Southern Ocean is officially left behind, until it makes its reappearance in leg five from Qingdao in China to Rio de Janeiro, which takes the fleet around the infamous Cape Horn.
Scoring Gate (check out the full scoring situation in our race data centre at http://www.volvooceanrace.org/rdc/ – choose the scoreboard tab).
Leg Two Day Six: 1300 GMT Volvo Ocean Race Positions
(boat name/country/skipper/nationality/distance to finish)
Ericsson 3 SWE (Anders Lewander/SWE) DTF 2969 nm
PUMA Racing Team USA (Ken Read/USA) +8
Ericsson 4 SWE (Torben Grael/BRA) +23
Green Dragon IRL/CHN (Ian Walker/GBR) +51
Telefónica Blue ESP (Bouwe Bekking/NED) +65
Team Russia RUS (Andreas Hanakamp/AUT) +89
Telefónica Black ESP (Fernando Echávarri/ESP) +95
Delta Lloyd IRL (Roberto Bermudez/ESP) +192
Position reports are issued daily at 1300 GMT by email; however, positions are updated every three hours on www.volvooceanrace.org . Click on RESULTS at the top of the page to go straight to the points table and onboard data.