Inför helgens Grand Prix-tävlingar i UIM Class 1 World Powerboat Championship i Norge är det många som gärna vill bryta Team Victorys dominans. Victorys båda förare, Arif Al Zafeen och Nadir bin Hendi, blir därmed lovligt byte för alla som vill vinna BMW Norwegian Grand Prix. Tävlingarna körs 15-17 juli i Arendal. Det är årets andra deltävling inom UIM Class 1 World Powerboat Championship.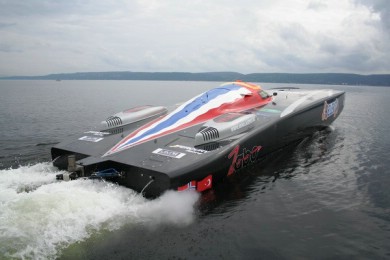 De regerande mästarna i Team Victory leder poängligan efter att ha tagit full pott vid säsongspremiären i Abu Dhabi. De är inställda på att ta karriärens 23:e seger och därmed sätta rekord i Arendal. De har goda traditioner i Norge, teamet har vunnit där åtta gånger av de 14 gånger de har ställt upp i tävlingen i Arendal. Förra året vann de båda racen där.
Tio båtar står på startlinjen inför det 14:e Grand Prix i Arendal sedan 1994. Tiotusentals åskådare kommer att följa tävlingarna, som körs i vackra omgivningar med goda förutsättningar att följa dramatiken på banan. Arendal är en av de bästa tävlingarna på hela Class 1 tour och de norska racingteamen är bland världens bästa.
De som ska slåss för de norska färgerna är den här gången teamen Welmax och Relekta. Jorn Tandberg och Christian Zaborowski vann i Arendal 2006, men nu ställer de upp som konkurrenter i var sitt team. Tandberg har dessutom vunnit i Arendal en gång till, 2008, samma år som han tog EM-titeln.
Tandbergs partner är Kolbjorn Selmer i den Mercury V8-utrustade Welmax. Denna helnorska kombination gjorde stor succé i Arendal 2009 och har tagit tio pallplatser på 21 starter och vunnit sex tävlingar från pole position. Fem av dessa kom förra året i Edox Pole Position Championship.
Teamets ägare, Tandberg, har också bekräftat att de kommer att köra med en egen andrabåt, ferskfisken.no. Det är samma båt ritad och byggd av Maritimo som deltog under namnet Welmax Alianza i Brasilien förra året.
I Relektas båt tävlar Ugur Isik och Christian Zaborowski, som placerade sig på femte bästa tid i kvalificeringen men därefter kraschade i årets första race. Teamet har köpt det vinnande skrovet Fazza av Victory Team och komemr väl förberedda till start.
Här är ytterligare fakta i den engelska pressrelease som organisationen bakom tävlingen har skickat ut:
The team has enjoyed a roller-coaster ride since its launch at the Norwegian Grand Prix last season, grabbing its first podium in Abu Dhabi last year and there is now an air of excitement within the team that they have the complete package to step up their title challenge.
Fendi Racing also fields a new boat whilst Austrian-based DAC Racing roll-out a cut-down version of their Tencara.
Luca Formilli Fendi and Giovanni Carpitella will unveil their new Outerlimits boat-engine package; their decision to run with the Outerlimits hull and twin 850 SC Outerlimits Powertrain engines sees the American high-performance boat manufacturer making its debut in the UIM Class 1 World Powerboat Championship.
Fendi and Carpitella teamed-up in Class 1 last season and have taken two podium finishes in six starts, with Carpitella hoping they can at least repeat his three visits to the podium in Arendal last year.
DAC Racing's Guido Cappellini is confident that the extreme modifications to his Tencara – cutting 120cm from the mid-section and reducing the overall weight by several hundred kilos – and upgrades to his Mercury engines, giving 50hp more per engine, will give him and throttleman, Giampaolo Montavoci, who starts his 100th race in Arendal, a real shot at competing at the front of the pack and challenging for race honours.
The team runs the restyled DAC 40 as kim.com for the first time in Arendal.
Sheikh Hassan bin Jabor Al-Thani and Steve Curtis will lead the Spirit of Qatar Team's two-boat attack out onto the fjords, looking for the win that has so far eluded them in Class 1 since they joined forces in 2008.
And whilst they [Sheikh Hassan and Curtis] have enjoyed considerable success together, winning six times and lifting both national and world titles racing in America, they have had to settle for podium finishes – six – from their 12 starts in Class 1.
The team made an impressive return to the Championship earlier this year stepping onto the podium four times, Sheikh Hassan and Curtis grabbing two second places, with Matteo Nicolini aiming to keep the pressure on his teammates and build on his impressive performance with rookie driver Ali Al Neama, finishing third-quickest in qualifying and third in race 2 – both outfits running Victory-built hulls with SKEMA V12 engines.
And whilst Curtis is the only member of the team and one of only five of this seasons' 22 competitors to have won in Arendal – in 2002 with Bjorn Gjelsten – both Sheikh Hassan and Nicolini – albeit now in opposing boats – will be hoping for a repeat of previous successes on Norwegian fjords in Arendal this week, the pair winning in Oslo in 2004 and in Trondheim in 2005, the year they won the European Championship.
Team Abu Dhabi has announced a change in their line-up, bringing in Emirati Majed Al Monsoori to partner wheelman, Rashed Al Tayer. Both are experienced racers; Al Tayer already a triple race-winner in Class 1 in just his second season, whilst Monsoori has come up through the ranks from Jet Ski competition and single-seater circuit racing. The duo also competes together in the XCat series and may well be a force to be reckoned with.
Chris Parsonage Racing retains the same driver-pairing with Giorgio Manuzzi alongside Norwegian throttleman Pal Virik Nilsen. The former teammates at Maritimo Offshore have both enjoyed podium success in Arendal, Manuzzi getting second and third last year and a third, behind Nilsen, in 2009.
The Grand Prix weekend gets underway with first practice on Friday afternoon. A second practice on Saturday afternoon is immediately followed by qualifying in the Edox Pole Position and race 1, with a final practice session and race 2 on Sunday.
CHAMPIONSHIP STANDINGS
1. 3 Victory Team – 40pts 2. 96 Spirit of Qatar – 30pts 3= 10 Fendi Racing – 19pts 3= 95 Spirit of Qatar – 19pts 5. 5 Team Abu Dhabi – 18pts 6. 74 Poliform – 10pts 7. 50 Parsonage Racing – 8pts 8. 18 MITI – 4pts 9. 90 Welmax – 3pts 10. 91 Relekta – 2pt
BMW Norwegian Grand Prix, Arendal (15-17 July)
Friday, 15
15.00-16.30 official practice
Saturday, 16
12.30-13.00 official practice
13.15-14.00 Edox Pole Position
17.00 BMW Norwegian Grand Prix – race 1 (8 laps – 52.45Nm)
Sunday, 17
11.00-12.00 official practice
14.30 BMW Norwegian Grand Prix – race 2 (11 laps – 72.36Nm)
Info: www.class-1.com