Det blir en stark uppställning i årets båtracingcirkus. Den nyheten kommer från Moncao, där det internationella motorbåtsförbundet presenterade 2011 års planer för UIM Class 1 World Powerboat Championship. Startfältet blir ett av de starkaste hittills med elva båtar som kommer att delta, enligt promotorn Nicolò di San Germano. Premiären går i Dubai 14-16 april.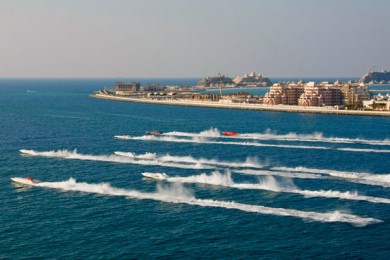 Bland de övriga tio deltävlingarna finns arenor som bland annat Norge, Italien och Brasilien. De flesta av dem är oljerika länder där den här typen av racing fortfarande är riktigt stor.
De regerande världs-, Europa och Mellanösternmästarna är Arif Al Zafeen och Nadir bin Hendi. De har dominerat – Class 1 de senaste fyra åren och de kommer att fortsätta styra för Victory Team, som ställer upp med en enda båt.
De trefaldiga världsmästarna vann nio av tolv tävlingar förra säsongenb. I år får de räkna med riktigt tufft motstånd, inte bara från sina "grannar" i Team Abu Dhabi och Mellanösternrivalerna Spirit of Qatar, utan från de sju europeiska team som alla vill bryta dominansen från Victory Team sedan 2007.
Här är de tävlande teamen 2011 och årets tävlingskalender:
TEAMS 2011 – summary
Team: VICTORY TEAM (Dubai, United Arab Emirates)
Boat: #3 Victory
Pilots: Arif Saif Al Zafeen (D) UAE
Nadir Bin Hendi (T) UAE
Team: TEAM ABU DHABI (Abu Dhabi, United Arab Emirates)
Boat: #5 Abu Dhabi
Pilots: Rashed Al Tayer (D) UAE
tbc (T)
Team: FENDI RACING (Italy)
Boat: #10 Fendi Racing
Pilots: Luca Formilli Fendi (D) ITA
Giovanni Carpitella (T) ITA
Team: GIORGIOFFSHORE (Italy)
Boat: #18 GiorgiOffshore
Pilots: Tomaso Polli (D) ITA
Nicola Giorgi (T) ITA
Team: CHRIS PARSONAGE RACING (England)
Boat: #50
Pilots: tbc (D)
tbc (T)
Team: TBC (Italy)
Boat: #74
Pilots: Guido Cappellini (D) ITA
Giampaolo Montavoci (T) ITA
Team: WELMAX OFFSHORE RACING (Norway)
Boat: #90 Welmax
Pilots: Kolbjorn Selmer (D) NOR
Jorn Tandberg (T) NOR
Team: ZABO RACING (Norway)
Boat: #91 Relekta
Pilots: Paul Gaiser (D) BRA
Christian Zaborowski (T) NOR
Team: SPIRIT OF QATAR (Qatar)
Boat: #95 Qatar
Pilots Ali Al Neama (D) QAT
Matteo Nicolini (T) ITA
Boat: #96 Qatar
Pilots: Sheikh Hassan bin Jabor Al-Thani (D) QAT
Steve Curtis (T) ENG
Team: D'ALESSIO-SCAM (Italy)
Boat: #
Pilots: tbc (D)
tbc (T)
2011 CALENDAR
15/16 April – Dubai, UAE
?/? June – TBA
16/17 July – Arendal, Norway
24/25 September – Stresa, Italy
22/23 October – Rio de Janeiro, Brazil (tbc)
1/2 December – Abu Dhabi, UAE
Här är resten av den engelska pressreleasen:
After an impressive debut season for Team Abu Dhabi and Class 1 rookie Rashed Al Tayer, taking three wins and one podium finish, Al Tayer is retained in the driver's seat, with the team still to announce who will take the throttles alongside him.
Spirit of Qatar's recently announced return to racing renews their great rivalry with the Victory Team. Sheikh Hassan bin Jabor Al-Thani and English throttleman Steve Curtis lead the team's two-boat assault on the championship in Qatar 96, with Class 1 debutant Ali Al Neama teaming-up with the experienced Italian, Matteo Nicolini in Qatar 95.
Leading the line for European team success will be 2010 Edox Pole Position Champions Kolbjorn Selmer and Jorn Tanberg, the all-Norwegian pairing maintaining their partnership in Welmax for a third season, whilst fellow Norwegian outfit Zabo Racing look likely to maintain their 2010 pairing, with Paul Gaiser alongside throttleman Christian Zaborowski in Relekta.
Italy rolls out four teams and three all-Italian pairings in 2011: Fendi Racing will make its championship debut with owner-driver Luca Formilli Fendi and Giovanni Carpitella continuing a promising Class 1 partnership that began in Abu Dhabi last season with a podium, running an Outerlimits boat and engine package.
GiorgiOffshore has confirmed that throttleman Nicola Giorgi, who lines up for his 75th Grand Prix in Dubai, will partner Tomaso Polli who he first raced with in 2002, with Guido Cappellini resuming his partnership with Giampaolo Montaovoci, the pair teaming-up last year for fives races and grabbing two podium finishes.
Both Team D'Alessio-SCAM and Chris Parsonage Racing, the sole English entry, have confirmed their participation but are still to reveal their driver line-ups.